Hi, we're NearSt!
A retail tech startup on a mission to get people back into high street shops. 💪
Our technology shows online shoppers what's in local stores by making the products in those stores visible in places like Google and Facebook. If you search for a product in Google, and it pops up showing you it's available nearby, there's a good chance we're the ones behind the scenes making that possible for Google (who trust our tech globally to make this all possible). 👀
We believe the future of the high street is one where every product in every shop is connected directly to the web, making it genuinely faster and easier to get something from a real shop nearby than ordering it for delivery online. The high street has incredible value that's currently hidden from the internet, and we see it as our job to unlock it (see our CEO talking about it at The Next Web!).
NearSt is a collaborative place, which means we work together and no one gets left behind. We value positive, open communication and diversity of thought. We do our best work when everyone can freely express their ideas and feels comfortable challenging others, all while having a good time.
Our team of 20-ish come from all sorts of backgrounds, and de-biasing hiring to keep this diversity is super important to us. We don't ask for CVs and instead focus on questions to uncover what you're great at (the first stage is reviewed totally blind!). It's probably why 1/2 of our engineers are career-switchers.
We're a hybrid company, where each team sets their own office schedule to do their best work. When you do come to our Old Street HQ at Work.Life, you'll find music, food, the occasional doggo, a stellar coffee machine (essential!), and a team who eat lunch together most days.
Personal growth is important, and we have a progression framework for growing people as individual contributors or people managers, backed by a personal learning and development budget each year.
We believe people do their best work when they trust and enjoy working with one another, so we do everything we can to foster that culture.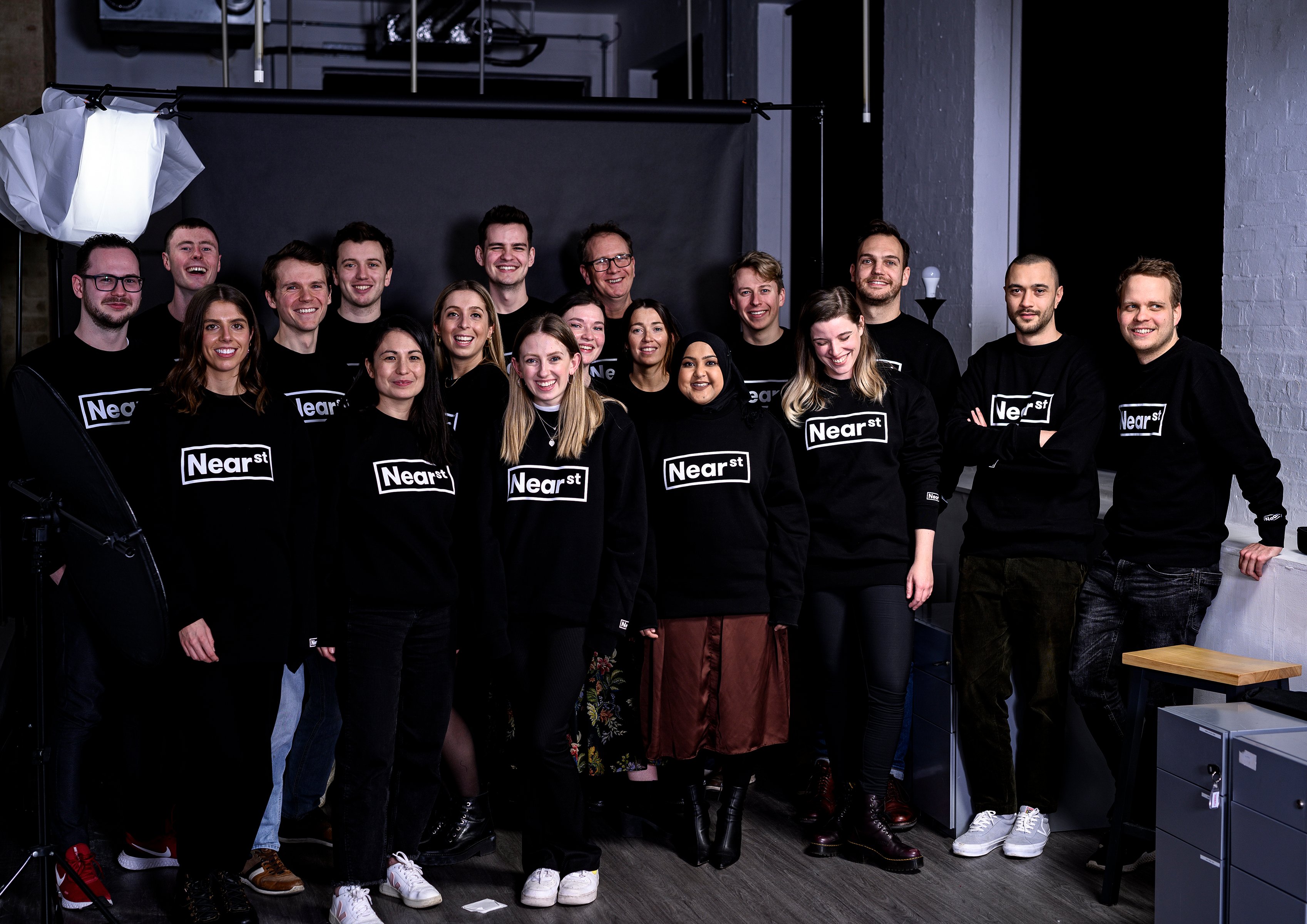 "Learning is a huge part of what NearSt has to offer - with a dedicated budget to support this and a culture of supporting individuals and teams to pick up new skills or develop existing ones."
"It's rare that you work for a company with a true purpose. This company is all about getting people back shopping in stores. If that's something you believe in then you'll go far here! "
"I joined NearSt straight out of university. It took me a few months to get settled but once I was, they trusted me with projects that graduates would rarely get to tackle."
"A really lovely group of people. Professional, talented and friendly. When I started at NearSt I felt so welcome. "
"There is huge respect for people which starts with the CEO and is found throughout the team. Its a positive place to work and be"
"Flexible, fun and the opportunity to work with some of the most intelligent and hard working people I've ever met."
Our perks
We know you come for the work, but the perks are important too. A few of the things we offer that people love
Stock Options
Everyone should share a stake in our success, so if you're a full time employee you'll receive stock options when you join.
Mental Health Support
Taking care of your mental health is just as important as your physical health, so we provide professional and confidential support from the wonderful therapists at
Spill
, directly in Slack.
Wellness Budget
Stay at your best with a monthly wellness budget to spend as you please on things to keep you happy, healthy and well through our partners at
Juno
. Whether that's on meditation apps, healthy food subscriptions, or gym memberships. If it keeps you well, it's covered.
Personal Growth
Develop personally and professionally with an annual budget of £1,000 for you to upskill in ways that suit your own learning style - whether through books, training courses, or attending events.
Holiday
25 days of holiday as standard plus a free company-wide shutdown between Christmas and New Year, for everyone to recharge. On your birthday (or an alternative important life-event day), take the day off as well.
Maternity & Paternity
We believe early-stage startups often miss out on talented mums and dads, so we've worked hard to make sure NearSt is a great place to be (or become!) a parent.
If you're motivated to solve problems no one has solved before that can have a massive positive impact on the lives of millions, we'd love to hear from you.
Check out our open roles below, or drop us a note on careers@near.st to find out more about what it's like working here.
Open positions
Loading...
Don't see a role that fits your profile, but feel that you might be a great asset to our team? Feel free to send us a message.
A note for recruiters: as a policy we don't work with recruitment firms or individuals, so we won't respond to cold calls or unsolicited emails. It's nothing personal.